Bartomeu Marí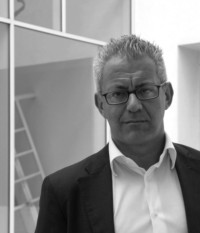 .
Bartomeu Marí
Museum of Contemporary Art of Barcelona - MACBA
Director of MACBA
Bartomeu Marí is the director of MACBA since 2008. He has been Chief Curator at MACBA since 2004; during this period he has curated numerous exhibitions, most of which have travelled throughout international museums and art centres. Some of the more noteworthy of these exhibitions have included the works of Ignasi Aballí, Francis Alÿs, Lothar Baumgarten, Janet Cardiff & Georges Bures Müller, Peter Friedl, Gego and Joan Jonas, among others.
One of the highlights of his previous professional career was his role as exhibition curator at the Fondation pour l'Architecture in Brussels from 1989 to 1993. The events he organised included exhibitions of the works of Dan Graham, Marcel Broodthaers, Judith Barry and Matt Mullican, as well as exhibitions dedicated to architecture.
From 1993 to 1995, Marí was curator of the IVAM-Julio González Centre in Valencia where he curated exhibitions such as the retrospectives of Raoul Hausman, Hermann Pitz, Frederic Kiesler and Lawrence Weiner, and co-curated with Mª Lluïsa Borràs those of Francis Picabia and Miralda.
In 1996 he was appointed director of the Witte de With Center for Contemporary Art in Rotterdam, where he curated individual and group exhibitions featuring artists such as Vito Acconci, John Baldessari, Tony Brown, Fortuny/O'Brien, Frederick Kiesler, Cristina Iglesias, David Lamelas, Rita McBride, Cildo Meireles, Matt Mullican, Muntadas, Eulàlia Valldosera, Krzysztof Wodiczko, among many others.
In 2002 he was curator, along with Chia-chi Jason Wang, of the Taipei Biennial in Taiwan, and in 2005 he also served as curator for the Spanish Pavilion at the 51st Venice Biennial for which he invited the artist Antoni Muntadas.

Marí has published "Marcel Broodthaers. L'Architecte est Absent. Le Maçon" (1991); "Show & Tell: The Films & Videos of Lawrence Weiner. A Catalogue Raisonné" (1992); "Les jardins de Jacques Wirtz" and "Bernard Tschumi Architects / Le Fresnoy" (both in 1993); and "David Lamelas: A New Refutation of Time" (1997). He is also the author of numerous catalogue texts, as well as various other publications.